As the Magid Center comes to the end of another semester, we are excited to congratulate our graduating Writing Certificate students as well as celebrate the accomplishments of students who have been involved with our many programs and publications. 
Writing Certificate Graduates
Congratulations first to our Fall 2022 and Spring 2023 graduates in the Writing Certificate program. We wish you all the best in your next endeavors!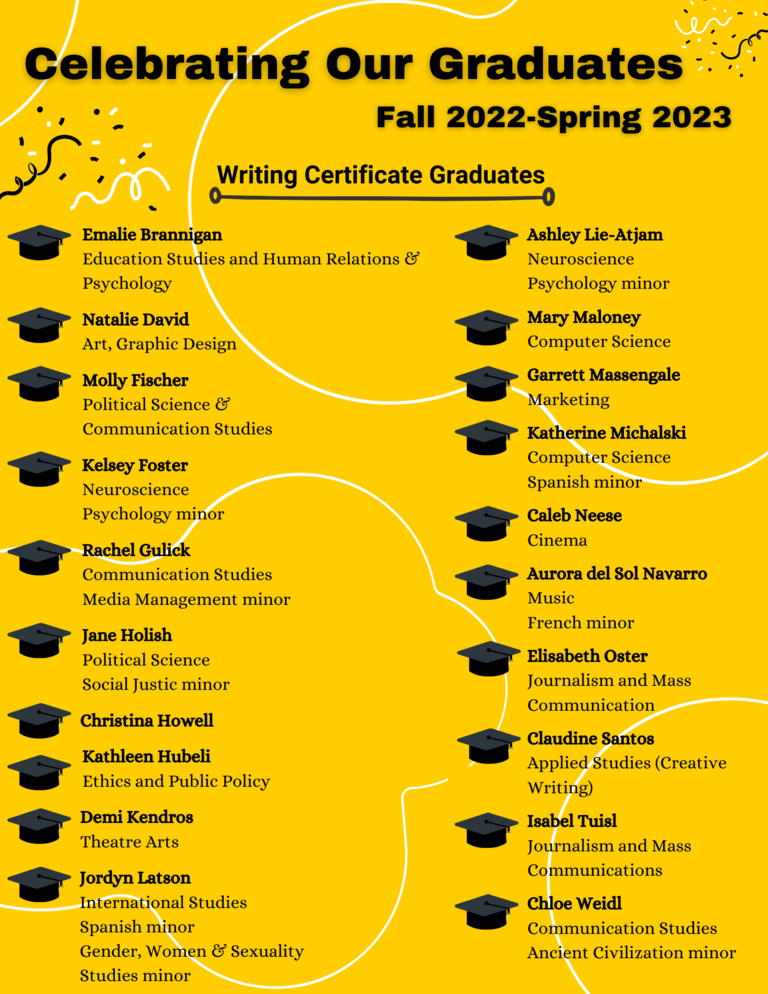 Student Accolades and Achievements
Congratulations to Ashley Lie-Atjam (Writing Certificate), Eleanor Hildebrandt (Ink Lit Mag, Earthwords, Wilder Things Magazine, Iowa Youth Writing Project), and Kyler Johnson (Ink Lit Mag, Translate Iowa Project: Boundless) for being awarded Fulbright Awards to travel abroad during the 2023-2024 academic year.

Congratulations to Eleanor Hildebrandt additionally for being selected to speak at the CLAS Spring 2023 commencement ceremony and to Aurora Navarro Cancel (Writing Certificate) for opening the ceremonies with the National Anthem.

Check out this profile of graduating senior Demi Kendros (Writing Certificate) featured in Iowa Now.
Magid Center Student Publications
Finally, we wish to celebrate the great work of our student publication editors and contributors. A hearty congratulations to Boundless, Earthwords, Fools, Ink Lit Mag, the Iowa Chapbook Prize, New Moon, snapshots, Wilder Things, and the Prison Writing Project on launching your publications for the 2023-2024 academic year. Check out the publications' websites, or come to the Magid Center for Writing, 24 Phillips Hall, to grab a copy to take home.