Sunday, September 18, 2022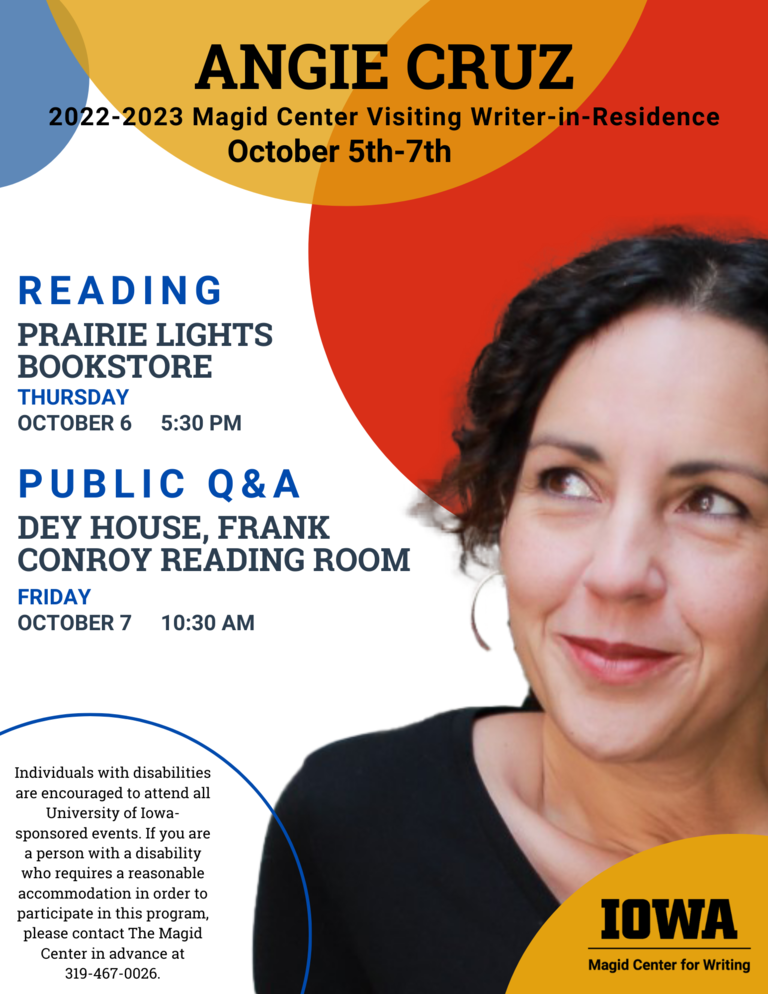 The Magid Center is pleased to announce novelist and editor Angie Cruz as our 2022-2023 Visiting Writer-in-Residence! 
Cruz will be on campus October 5th-8th and will participate in the following public events:
Public Reading / Thursday, October 6th, 2022 (moderated by Ari Ariel)
5:30pm at Prairie Lights (15 South Dubuque St.)

Public Q&A / Friday, October 7th, 2022 
10:30am at Dey House: Frank Conroy Reading Room (507 North Clinton St.)
Angie Cruz is the author of four acclaimed novels, including Dominicana—winner of the ALA/YALSA Alex Award in Fiction, a finalist for the Women's Prize in Fiction, and a Good Morning America Book Club pick. Her new novel, How Not to Drown in a Glass of Water, was released this month and has been named a "most anticipated book" by The New York Times, The Washington Post, Good Morning America, The TODAY Show, Real Simple, Goodreads, BookRiot, Bustle, The Millions, PopSugar, AV Club, LitHub, and more. Cruz is also the founder and editor-in-chief of the award-winning literary journal Aster(ix) and an associate professor of English at the University of Pittsburgh.

Join the Magid Center and the Iowa City Book Festival this October in welcoming, celebrating, and learning from Angie Cruz! The following campus events are both free and open to the public:
Please contact the Magid Center for Writing at magid-writing@uiowa.edu or 319-467-0026 with any questions about the event.